Surfing for little ones – Surfing for parents with children (8 – 16 years) on Fuerteventura
[new_royalslider id=16] 
Surfing for Youngsters with FreshSurf on Fuerteventura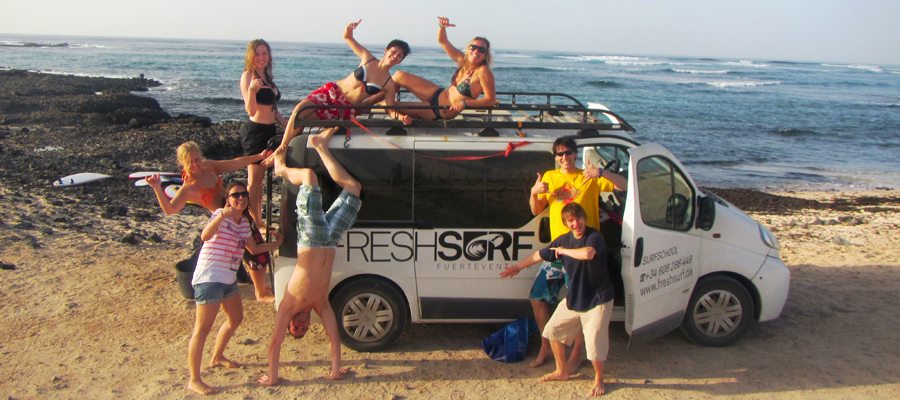 Surfing for Youngsters!
Kids learn how to surf easily and the entire family can also be involved! You will be surprised by how fast kids will improve with the help of our individual coaching. In this specially designed surf course, children can practise at their own pace with our special surfboards and will soon discover the feel of surfing!
The course will take place in chest-deep water, where the kids will still be able to stand. 
The course will be taught by professional and experienced surfers, who are fun to be with.
Most of all they will pay lots of attention to the kids' safety! To begin with we will take the children into the water without surfboards, so they can get used to the waves and the water. From there on, we will guide them day by day until they feel comfortable and start to surf!
Our family surf camp on Fuerteventura!
Safety is our number one priority! We always look for any potential dangers in the first place and pay constant attention when teaching. The right equipment and knowledge of essential theory are important when surfing.
We begin our surfing day with a specially developed warm-up and stretching-programme.
Our lessons are tailor-made and build step-by-step on each other in theory and practice (on- and off-shore).
Learn how to surf  – together with your kids – in one surf course on Fuerteventura!

Would you like to give your family a holiday to remember?
Come to FreshSurf! We will guarantee your family the time of their life! The idea is pretty simple: We provide the opportunity for families to learn how to surf, spend time together and to have lots of fun in the sea! . 
In order to offer surf lessons for families with children, we have developed lessons which are specially designed for all ages.
Kids (8 years and older) learn how to surf with their parents and spend time together on the beach. If you prefer spending time on a beach without waves, there are plenty of possibilities on picturesque lagoon beaches e.g. Los Lagos.